How did we win the 2012 National Points Championship in The 24 Hours of LeMons?
The answer is simple: Volume! Each entered team car gets three points. We had 28 separate team entries, consisting of 11 race cars in 11 different races throughout the United States. It was an all-out team effort at a breakneck pace throughout the year---building, theming, rebuilding, retheming ad nauseam. There were some iconic LeMons firsts, like an AMC Pacer, a Suzuki X-90, a racing pop-up camper, a classic Falcon, and a bowling alley on wheels, along with some fun multi-car themes, such as the Titanic and the Iceberg at Summit Point, and the Monitor and the Merrimac at fall CMP. Here's a brief recap of the insanity that was 2012:
March 3-4 CMP
The Parnelli Jones Galaxie, the LanciaR2, and a horribly rusted, hella-butt-turrible 1978 AMC Pacer were dragged to South Carolina, two of which made the 8 hour trip in my new (12 year-old) 53' enclosed gooseneck trailer. The trailer needed holes in the floor covered, and since we were already laying 45 feet of plywood down, we figured why not make it a bowling lane? We scored a set of real pins, a bunch of old bowling balls, and stained/urethaned the birch veneered plywood to look the part. Once that was accomplished, we said what the heck, let's make it a nightclub too! Blacklights, surround sound, a strobe light, a disco ball, and a fog machine were added to complete the effect. With no cover charges, age restrictions, bowling fees, or shoe rentals, Club Speedy turned into the happening nightspot wherever we went. The cars didn't win anything, despite the Pacer turning (hella slow) laps nearly the whole weekend, but we were shocked when the trailer was awarded Organizer's Choice!
March 24-25 Sears Point/Infineon
The V8lvo, my west coast contender, returned to the track with yet another new look. Our Blue Man Group imitation was pretty good (for a bunch of guys who've never actually seen BMG), and the spectators loved our physical comedy routines. The V8-powered, rear wheel drive Volvo with the welded differential, on the other hand, HATED the wet track Saturday, and despite running better in general than it ever has (for us), there was simply too little traction to turn a decent lap time. Losing a wheel on the track didn't exactly help matters. Sunday I was finally able to turn up the wick, posting a very respectable 2:09 in the process.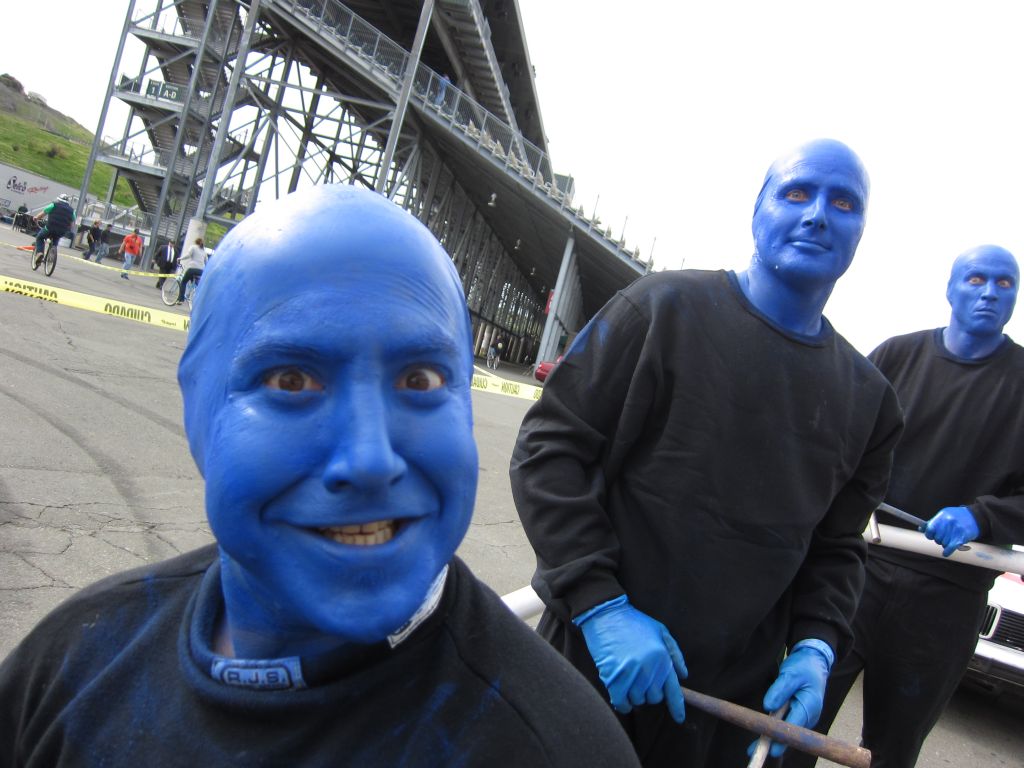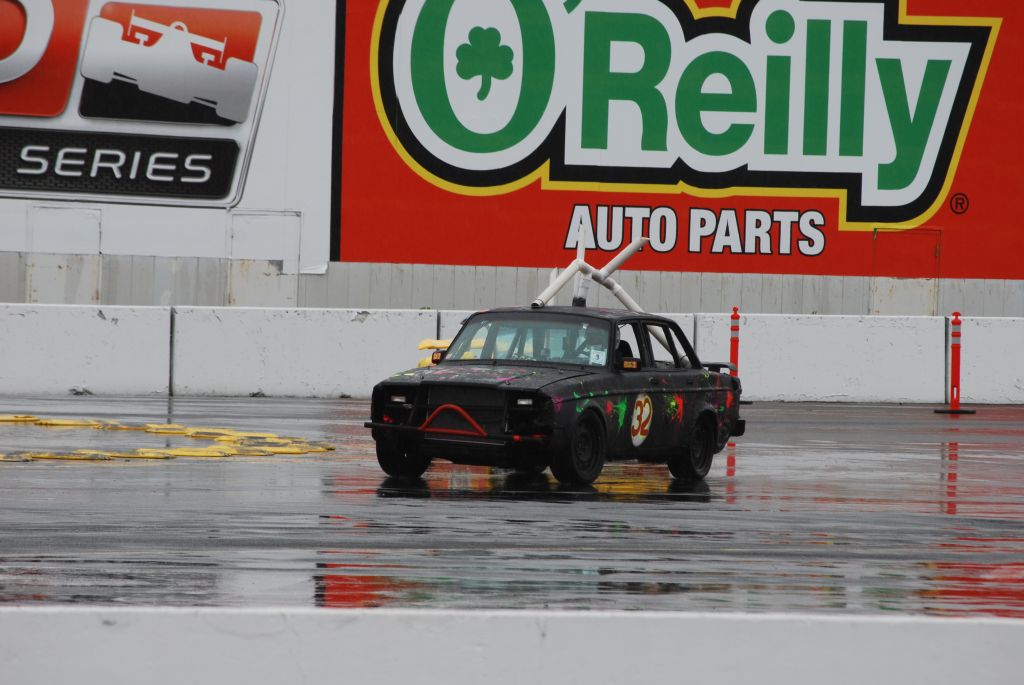 April 14-15 NJMP
We debuted a Suzuki X-90 (a rare body-on-frame "truck" that is essentially a rebodied Sidekick), with Red Bull as the obvious theme choice. Having six cars entered in this race ensured that our paddock space was a sprawling disaster area. The Lancia spun itself to an early end of the day on Saturday, while the X-90 spun just enough to earn us the Jersey Shore Penalty. The other vehicles only suffered minor occasional maladies. DC Doug kindly let me hot lap the Galaxie near the end of the race, and somehow the starter fell off, preventing him from taking the checkered as planned. Who's the d-bag who broke Doug's car? This guy!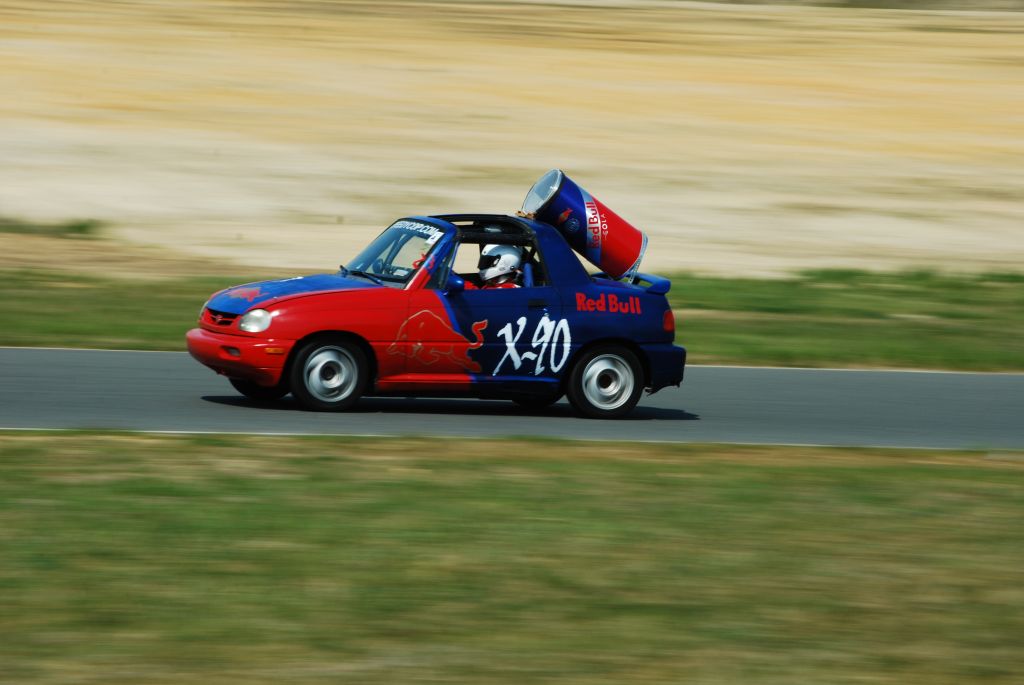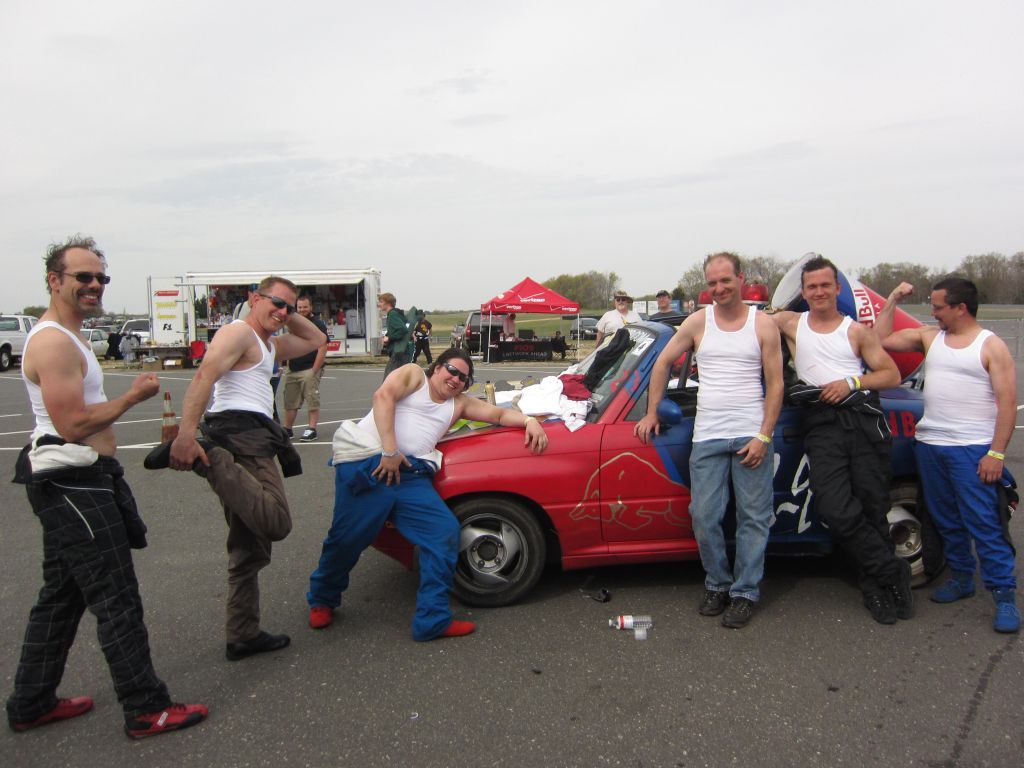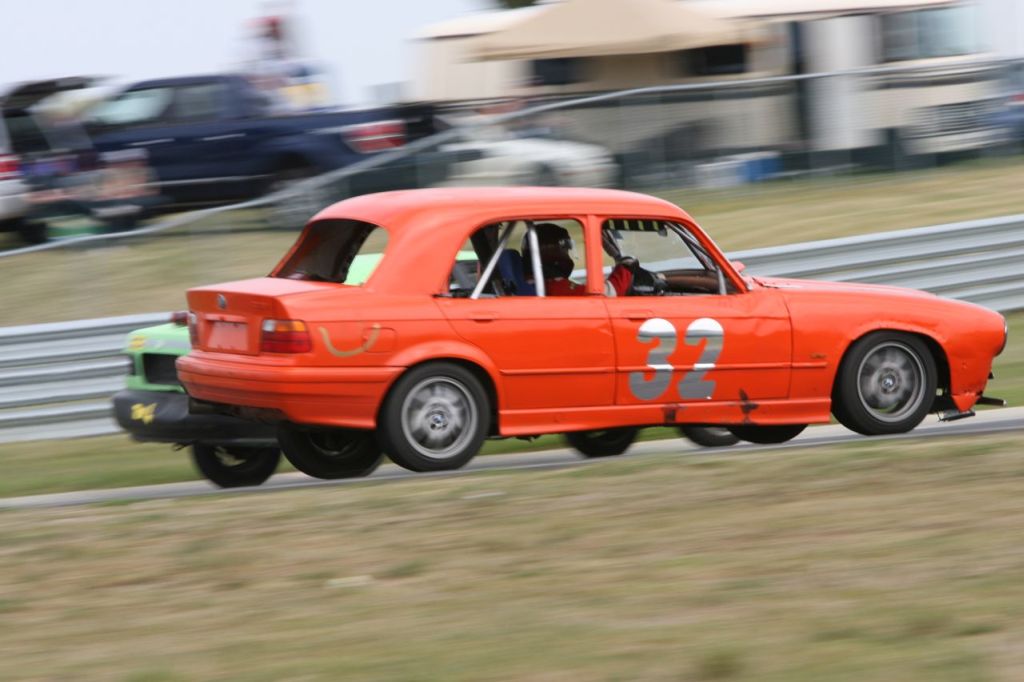 April 21-22 Gingerman
DC Doug and I made the looooooong drive out to Michigan with the giant bowling alley in tow for this race. We were only bringing one team car, but another local car needed delivery to a midwest team, and Soggy and his Simca needed a ride out and back from northern PA. Yeah, that was way out of our way, but Soggy had been kind enough to retrieve the Geo Metro limo I had bought previously in Detroit, so I had to go to his place and pick it up anyway. A bunch of fellow racers were eager to try their hand at trailer bowling, so they graciously donated to help offset our massive fuel costs. Doug handled the race refueling, I handled the driving, and when the dust cleared, we had won Class C handily! Afterwards, I played around a bit for a TV film crew, attempting to drive on two wheels, but without my trusty ramp. It turns out that a small wood chock WILL get you up on two wheels, but the transition isn't smooth enough to balance and maintain it. Plus, you wind up with a bent rim and a popped tire: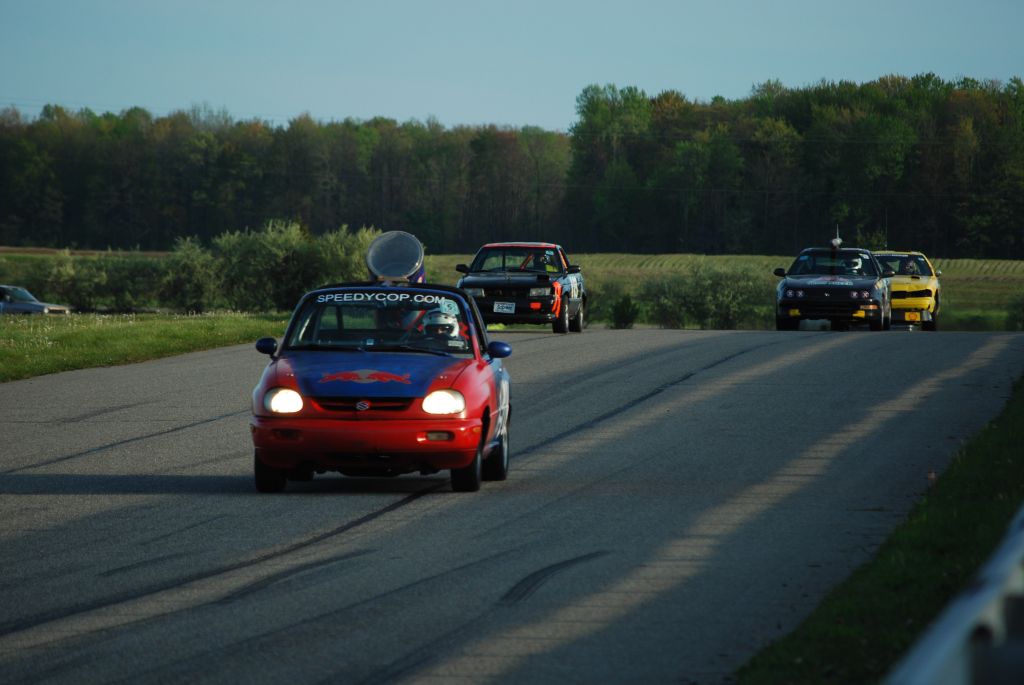 May 5 NHMS
I've had a number of incredibly ill-advised ideas over the last four years when it comes to new builds for LeMons, one of which was a pop-up camper. After snagging one for free from a local junkyard with a promise to return the intact frame promptly (we couldn't use most of it anyway), we gutted the rotten interior, made a roof for it (the roof was long gone), built a subframe to support it, and placed the tiny X-90 inside the twelve foot camper shell. Voila! Racing camper. My neighbor Don and DC Doug worked especially hard on this build, spending even the days I was gone (at work, fighting crime) on it. Our theme was, of course, total trailer trash, right down to the two large dogs, cigarettes, beer, and a baby (doll). The pink flamingo was the perfect finishing touch!
Our empty (replete with bullet holes as proof) propane tank and realistic-looking hitch (made of ultra flimsy aluminum tubes, a plastic spray can lid, and Gorilla tape) apparently made some other racers nervous, and they mumbled about fuel cells getting speared, and resultant massive fiery explosions. The tech officials knew better---any impact would have merely knocked the flimsy tubes off, and the empty tank was only going to remain in place for the first ten minutes, lest it get knocked off, and roll around on the track. Despite a red misty arrive-and-drive racer (I mean, c'mon, seriously, everyone signed up to "race" a pop-up camper!) running balls-out until melting the aluminum head at the end of Saturday, and the late-night thrash to tig weld and reinstall the head, we managed to push start it and chug along to the checkered at the end. Index of Effluency #4 was ours! I'll never forget the dumbfounded expressions of the corner workers and spectators when I hit the track Saturday morning.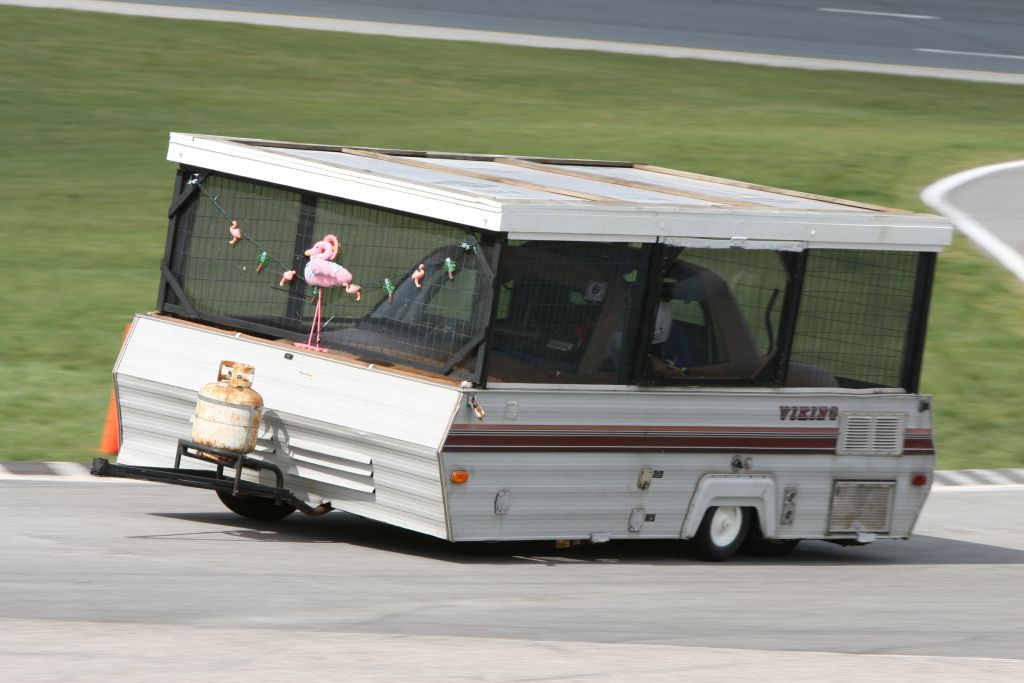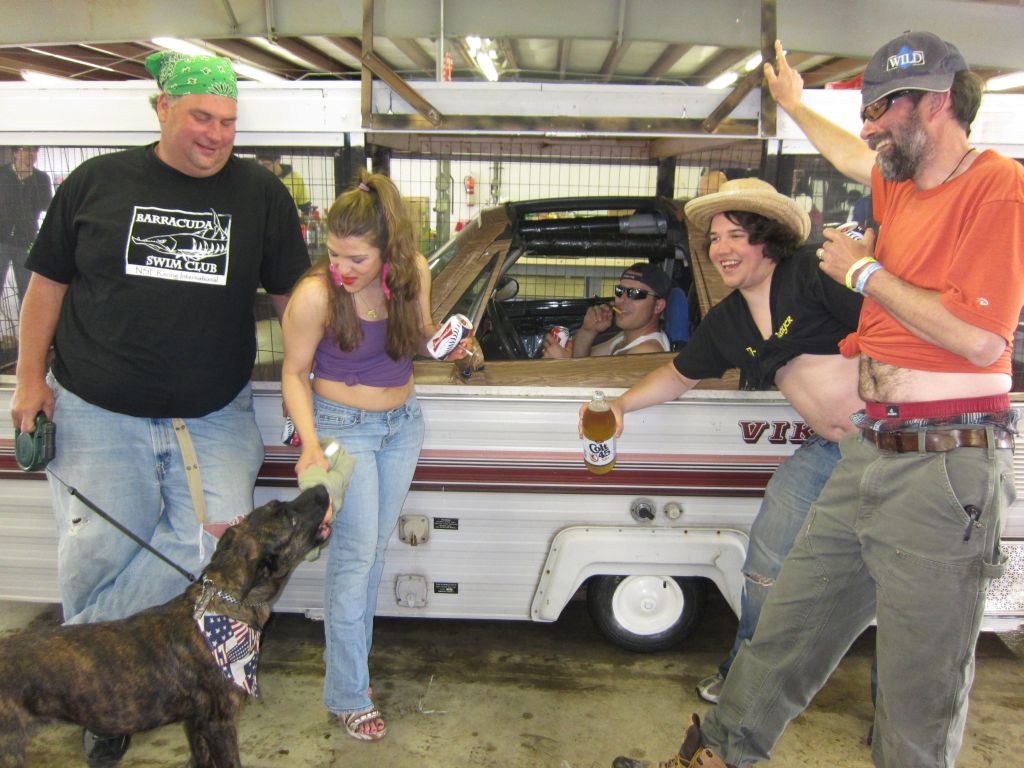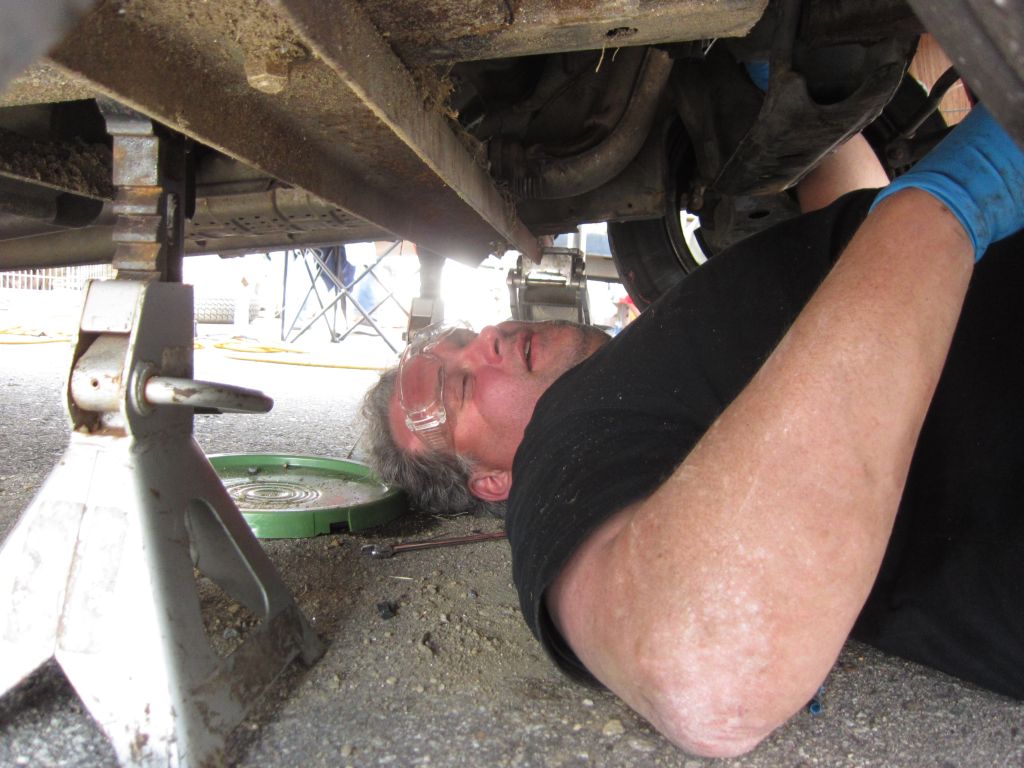 June 2 BFE-GP
I was supposed to fly out to Colorado for this one and race the Pacer again. I registered the car and the team, but wound up transferring ownership of the car itself to Jake, AKA Rockford Brodie. When my financial situation (AKA being flat-ass broke) dictated that I forego the race, the new owner assumed leadership of the effort. Extensive welding was performed to get rid of the excess flex that the severe cowl/firewall/floor rust caused at CMP. Once again, the hella-butt-turrible car turned slow laps all weekend, earning the new owner an IOE in his first ever LeMons outing. Way to go Jake!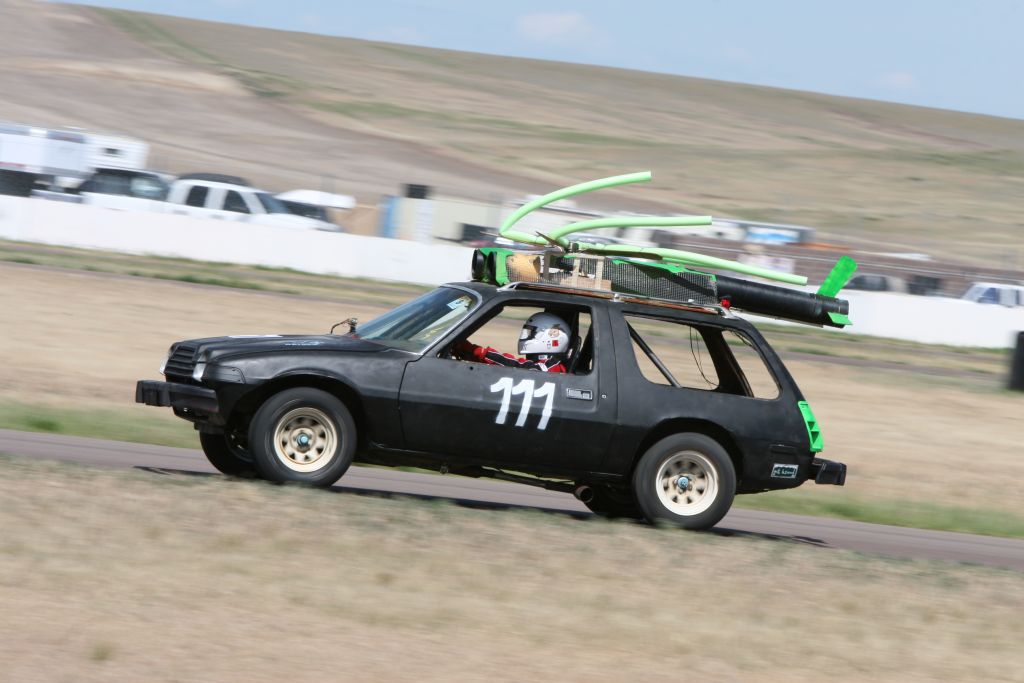 June 16-17 Summit Point
Another six car spectacle, and a pair of new team cars to debut. Original core team members Joe and Joey had been working for many months on a 1960 Falcon that was to be a combination street car and LeMons racer for them. The tired old 302 was freshened up, the stock front suspension was cut out in favor of a Mustang II setup, and a T5 transmission was swapped in. It had a plethora of teething problems, and the cut springs were too stiff to keep the tires planted over even the slightest of bumps, but it sure looked and sounded badass on the track! The Joes did a great job with it. We also brought the Wounded Warrior Cougar once again, and were able to raise several thousand dollars for the WWP charity while affording veterans free stints.
I had intended to convert the 4 cylinder BMWhatever to a 6 cylinder for this race, and for that purpose I bought a 2.5L engine for dirt cheap ($150) that was sitting in someone's shed. I still needed the ancillary parts (mounts, accessories, flywheel, etc), so I bought a complete, non-running '92 325i for $500. The seller claimed he put a new fuel pump in, but still couldn't get it to run, so he was selling at a loss. For the heck of it, we put a jump box on it, and cranked it over. It cranked really fast, and sounded like it had no compression. Also, the fuel vapors smelled awful, as if it was very stale gas. Several squirts of starter fluid got it to sputter, and a bunch more cranking and spraying got it to finally start up, but the lifter clatter and billowing white smoke was terrible! I was sure the motor was toast. With nothing to lose by letting it run, I waited. The white smoke obliterated the neighborhood at first, and the noise was deafening, but both gradually faded. About 30 minutes later, there was no smoke at all except for the oil the cam cover was dumping on the exhaust manifold, and no hint of even a tap. Easiest fix ever!
The decision was made to cage it, instead of opening the Pandora's box that was the wiring conversion (the '98 BMWhatever is OBDII and has BMW's version of anti-theft), and Jim Whitley of www.rollcagecomponents.com did a beautiful job with the cage. For a theme, we went with the whole 100 year anniversary of the Titanic, and did the BMW up as that ill-fated ship. The X-90 was covered in spray adhesive, then plastic, then expanding foam, the top layer of which was painted white. Between prepping six cars and building two brand new ones, there was no time to execute the theme prior to arriving at the track, so we stayed up late Friday night brushing enamel house paint onto the cars. In the morning, we discovered the late night damp air had precluded the paint actually drying, and the morning dew had caused runs all over both cars. Still, it was a fun theme, it was entertaining to watch the Titanic avoiding the iceberg on the track, and we staged a hilarious mock collision at the end of the race.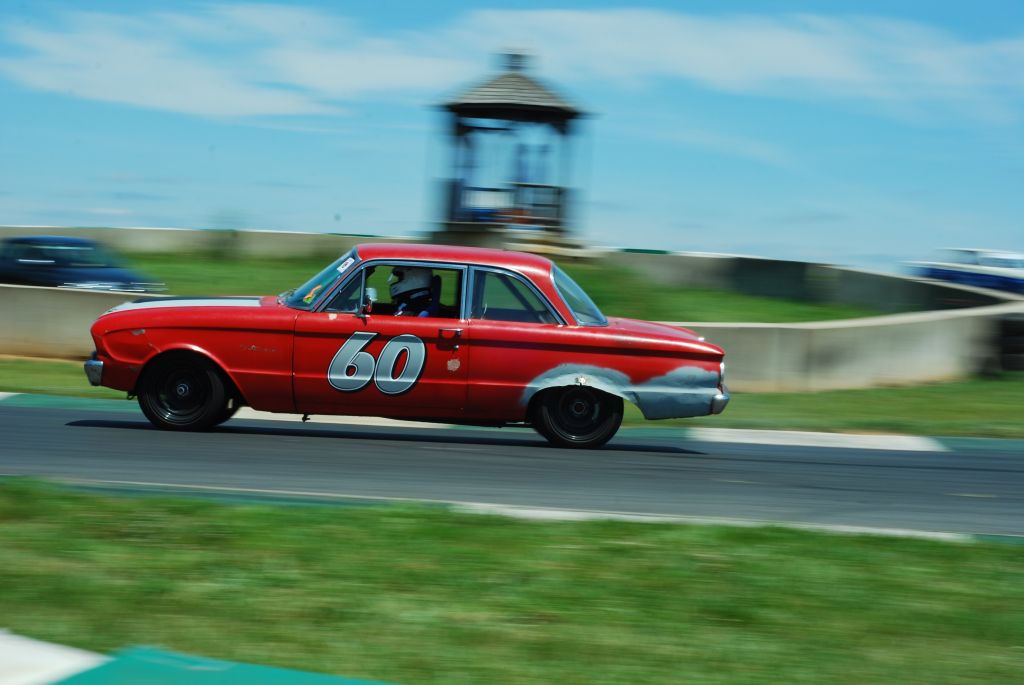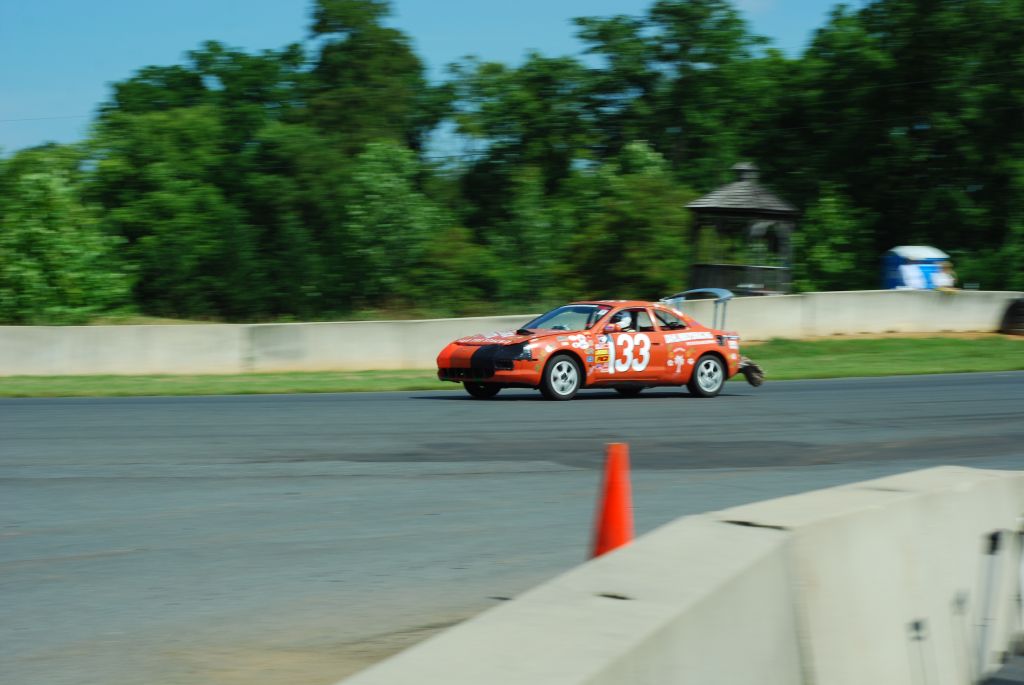 September 15-16 Thunderhill
This race turned out to be more frustrating than most. One of my drivers wound up ineligible to race, one had other (preplanned) obligations in the morning, and the third was a no-show until after the start. Also, the new starter decided not to work, come race time. That meant I was all alone in trying to get the car ready for the green flag, and I had to steal Spank and CrazyMike's girlfriend Amanda to help me get strapped in and push started. Legendary automotive journalist Jack Baruth was racing with me for this event, so it was nice to finally meet the man behind the articles. The car did okay except for brake overheating issues, which we had never experienced in it before. On Sunday, I let some prospective buyers race the car, and they wound up buying it from me. The west coast racer ownership experiment was fun while it lasted, but logistically, it was too much of a nightmare. Trying to repair AND theme the car well (west coast style) in just a couple of days before the race, with only borrowed tools? Yeah, it sucked.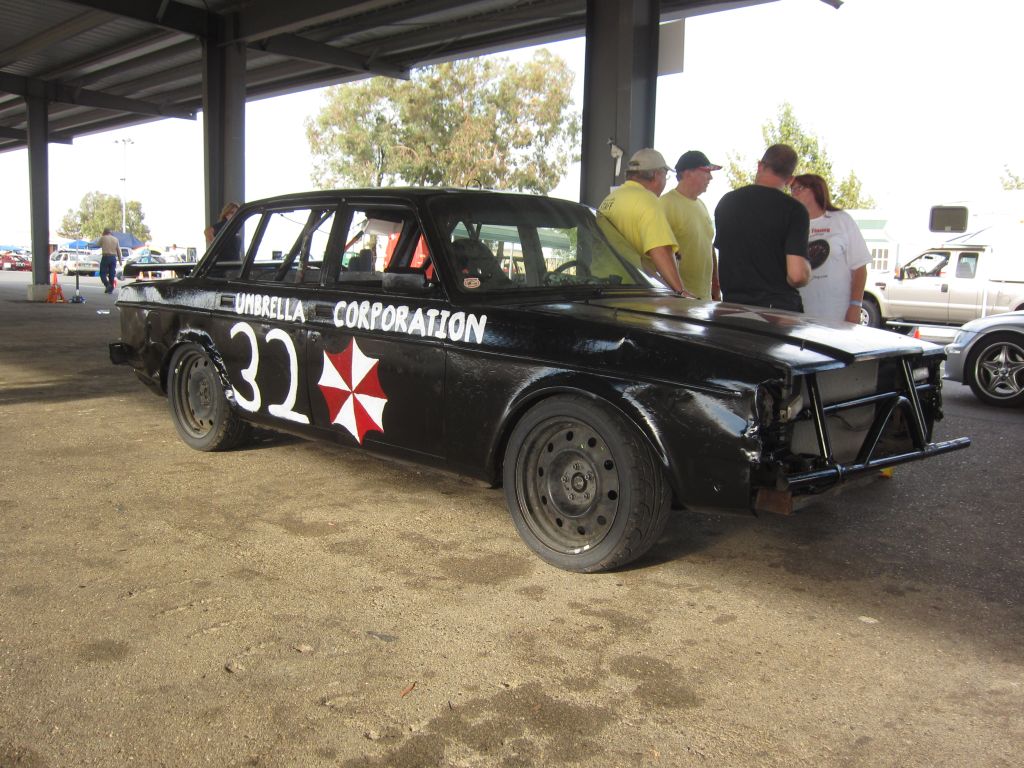 September 22-23 CMP
We went all-out for this one, doing a two-car USS Monitor/CSS Virginia (AKA Merrimac) theme at Judge Phil's request. The BMW/Merrimac suffered a busted radiator and fan during tech inspection (don't ask), and had to be towed through the LeMons parade in Camden, SC, by it's yankee counterpart. Both cars did pretty well on the track, though ,and the theme was a big hit with spectators.
October 27-28 NHMS
Not only did we have 5 team cars in this race (including another new one, the Probelem), but we had all chipped in and hired reknowned white Maine rapper (no, that's not a typo) Spose and his crew to perform a live concert in the garages Saturday night. We did the X-90 up as the Great Pumpkin, and the 325i was painted gold before we left. It was gonna be finished at the track with a killer PSY/Gangnam Style theme, but when we arrived, we discovered that our friends at Three Pedal Mafia had already done a stellar job with that theme, and their team dance moves were vastly superior to ours. Yielding to their awesomeness, we simply wrote on our our car that their theme was so good we didn't even try to compete. We had NASCAR legend "Fast" Eddie Riker with us all weekend, and while he opted not to drive, he graced us with stories of the NASCAR races he won in the late '40's and early '50's. His three sons all raced the BMWhatever, along with Amanda's sister Allison, who had never raced before.
Unfortunately, an arrive-and-drive buddy wrecked the BMW in the first few minutes of the race. It was a brutal hit into the wall, severe enough to shear the motor and transmission mounts, and destroy the front clip. After spending most of the day thrashing to get it back into shape, we hit the track, but after about two hours we learned that ratchet straps do not work terribly well to hold the engine in place under the rigors of road racing. Also having issues was the Probe GT. Putting rods through the block seems to decrease seat time somehow, and increase oil on the track surface. Saturday night, we took Dave and Doug's air-powered cannon contraption out to the fields for the NHMS Potato and Punkin' Chunkin' competition. It worked---we won first place! The live Spose concert went off without a hitch, and it was excellent.
On Sunday, the 325i woes continued, when our spare radiator was taken out by an orange cone that was kicked into the line by another car. A huge quantity of JB Quick Weld later, we slowed the leaks enough to take the checkered. Teammates Fritz, Phil, and the Dahlin Boys also blew the motor Sunday in their Celica, and were smart enough to load up and roll south before Hurricane Sandy arrived that night. Bob and the rest of the Probelem crew thrashed all night and day to make repairs to the block, just to burn oil so badly upon startup that the entire paddock was enveloped in dense white smoke. The X-90 and the BMWhatever did well, though, and their drivers got decent seat time. We loaded up just in time to drive through the leading edge of the hurricane, while towing a 53' trailer. Good times.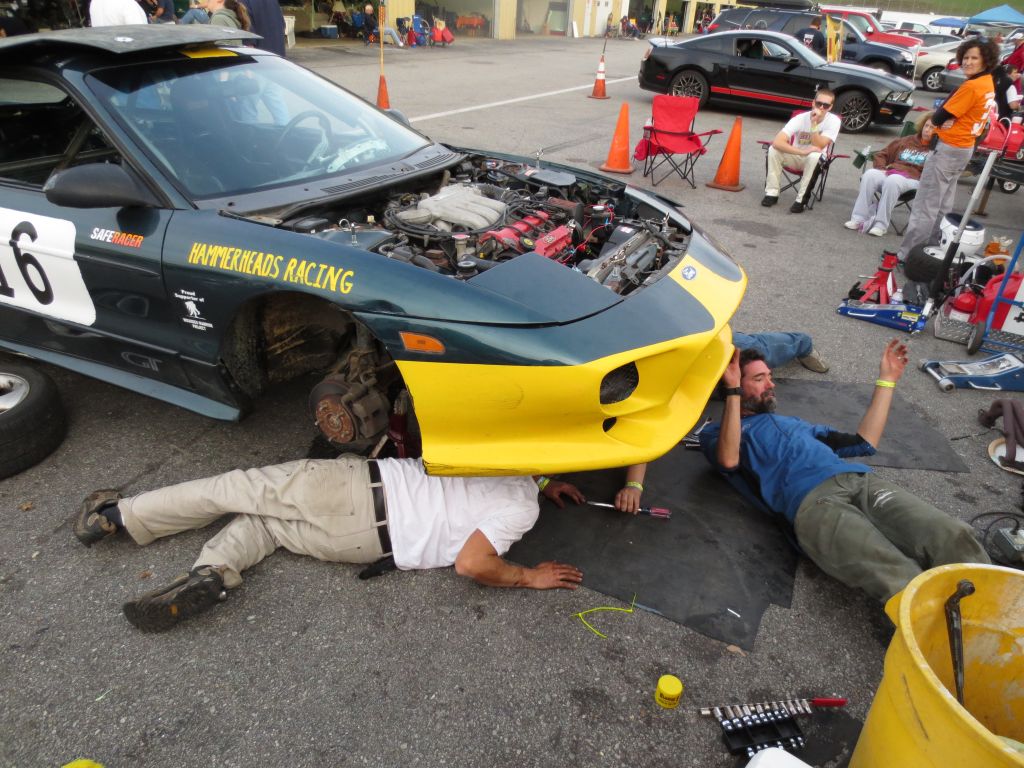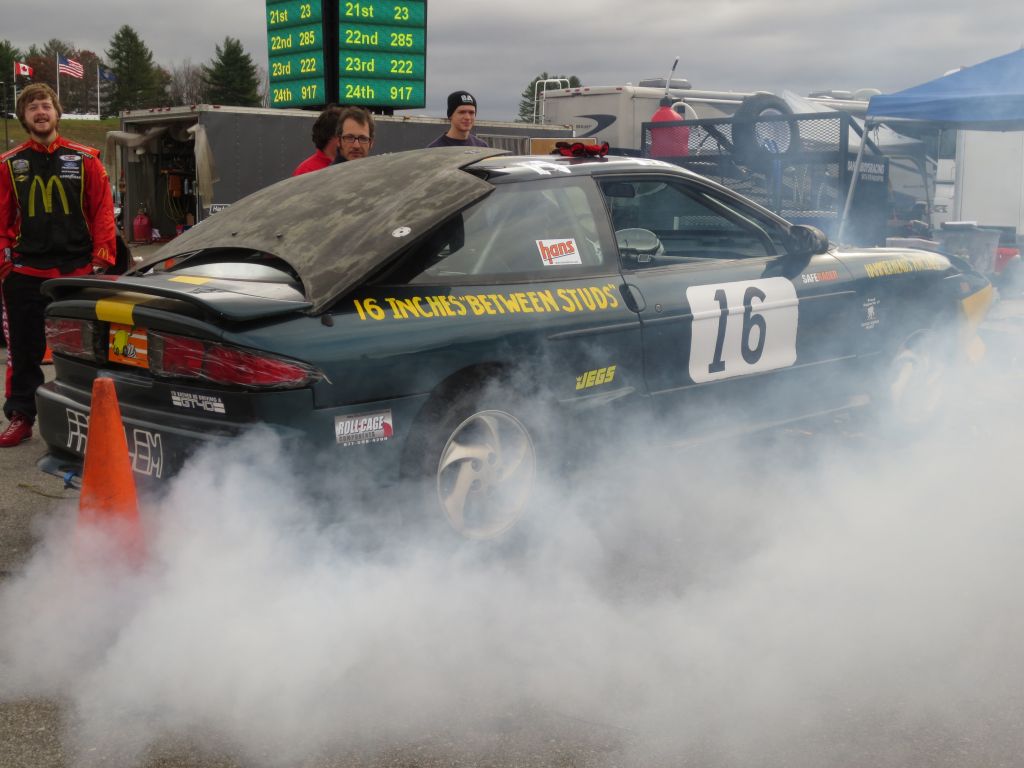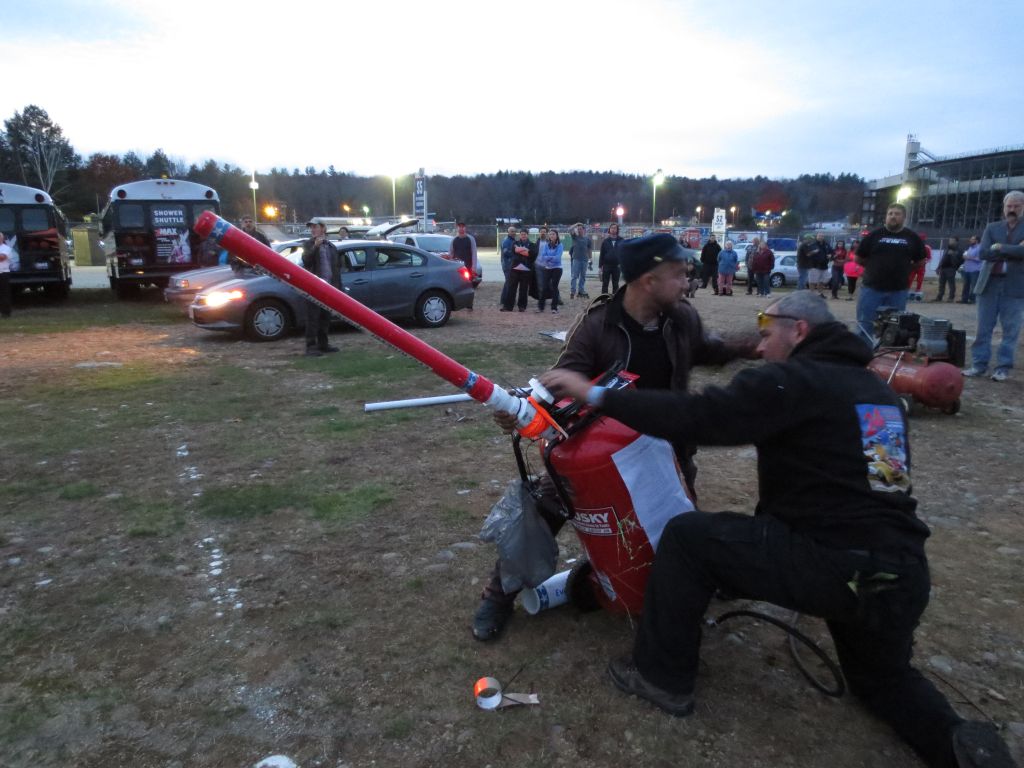 December 29-30 ECR
We won a free entry to the season-ender in Texas by leading the northeast region in points for 2012, so DC Doug and Alex dragged a trailer 3600 miles round trip to transport the Lancia to the race. We were in and out of first place on Saturday, running second overall late in the day, when the driver of the Lancia looked back at another car, and dipped two wheels into the muck outside the turn at 60 MPH. The resulting crash was severe, and although both drivers were okay, both cars sustained quite a bit of damage. We came back from 30 laps down on Sunday to finish 8th overall, after thrashing for hours on Saturday night to get it back into some semblance of raceworthiness. The Lancia might be finished its LeMons career, but that remains to be seen...
In total, we managed to earn an astonishing 87 points in 2012, without ever finishing better than 8th overall. We made a lot of new friends, introduced quite a few new drivers to LeMons, built and raced 6 new team cars (BMW 325i, "Tom Sellecka" Celica, Pacer wagon, X-90, '60 Falcon, Probe GT), along with 5 old ones (Galaxie, Lancia, BMWhatever, WWP Cougar, V8olvo). In the process, we earned an IOE, an Org Choice, and a Class C win.
Special thanks go out to (in no particular order, and I'm sure to inadvertently leave out a great many folks who deserved to be thanked):
The LeMons Staff, for making all this fun possible
DC Doug, for always being willing to drive out to Maryland and help on race cars he's not even going to race, picking up random Craigslist hoopties for me as future racers and parts cars, and making trips to Richmond for cages
Ronman, for feeding us delicious meals and snacks, making parts runs, housing some of the Outlaws in his camper, and taking a million amazing photographs
Damion, for videotaping and editing countless videos, for engineering live feeds from the races for our fans back home, and for lining up rental equipment and working sound magic during the concert
Cousin Dave, for all those trips down from NJ to wrench, and for keeping the pits organized all weekend
Tom, for prepping the Lancia, wrenching in the pits, and keeping all our electrical gremlins at bay
Joe and Joey Dorshefski, and David, for also lending a hand before, during, and after races
My neighbor Don, for tools, frequent help, towing, and sage advice on cotter pins
Chris Overzet, my brother from another mother, for storing the V8olvo, loaning me tools, a trailer, a truck, transportation, wrenching, welding, and hospitality
Fritz, Phil, and the Dahlin Boys, for always lending a hand, feeding us well, and providing those high quality B/A Products straps that keep our cars secured on the trailers
Jim Whitley of www.rollcagecomponents.com, for making us excellent cages to keep us safe, and for giving us great deals on them
Jamie A., for also making many drives down from Jersey to wrench
Joe Fain and Chadd, for driving out to wrench at my place, even when they weren't able to go racing
Alex the crazy Russian, for all his help all year long
Bob Grant, for building a northeastern-based team car, and keeping the team's "NEVER GIVE UP, NEVER SURRENDER!" spirit alive
Racin Rob, for driving out from PA to help, and for all those awesome graphics and vinyl
Anton Lovett, my other brother from another mother, for wrenching more than he raced, and for providing me close competiton on the track all year
Kent Kroll, for the same reasons as Anton
Steve McDaniel, for helping before and after the race, and for the driving help on the looong tow.
RobL, Keith Humphris, David Culberson, Al Twomey, the Rikers and Allison, and ALL the other awesome A&D's who busted their butts helping prep and fix the cars all weekend
Roland and Stephanie, for everything they do
Amanda, for all those yummy meals
Mau, for wrenching on the X-90 for several weekends before the race
My "race wife" Mara, for helping make our pit area more cheerful
And, MOST OF ALL, my beautiful, loving, tolerant, understanding, and supportive wife Jaime, for putting up with all this, all year. You're amazing, and wonderful, and I thank God for you!
You all rock.
Stay tuned for many more exciting adventures in 2013...
comments powered by